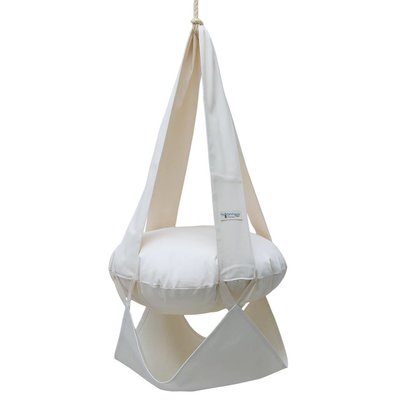 The Cat's Trapeze
1p Trapeze unbleached cotton
The Cats Trapeze is an inventive stylish play/sleeping spot for particularly young and active cats.
The Trapeze is specially designed to provide challenge for your cat, to jump through it, to climb and swing. The alternative to climbing curtains! ...
More information
---
---
The Cat's Trapeze is made of sturdy fabric. Jute is a very appropriate fabric to use for playing cats. The fabric has a more open-weave structure than cotton and therefore very suitable for cat nails..also the natural smell is attractive to them. 
The trapeze can be stuffed with your own throw pillows, pillows from IKEA, or something similar), or you can use old towels, recycled clothes or crumpled newspapers placed inside the inner pillowcase. Another option is to order your pillow set
here

.
One Package includes: Trapezecover, hammock and a piece of sisalrope (1 meter)
Weight: 
1 pillow trapeze 0.8kg
2 pillow trapeze 1.0 kg
3 pillow trapeze 1.2kg                                                   
Cover ø:  60/ 50cm                            
Height:
1 pillow trapeze 1.10m
2 pillow trapeze 1.25m
3 pillow trapeze 1.60m