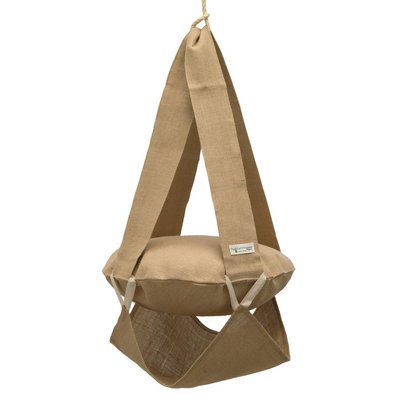 The Cat's Trapeze
1p Trapeze natural jute
---
---
Jute is a very appropriate fabric to use for playing cats. The fabric has a more open-weave stucture than cotton and therefore very suitable for catnails..also the natural smell is atractive to them. 

The trapeze can be stuffed with your own throw pillows (such as the Gosa Slan pillows from IKEA, or something similar), or you can use old towels, recycled clothes or crumpled newspapers placed inside the inner pillowcase.


Verpakkingsmaat en gewicht
Breedte: 19 cm 
Hoogte: 7 cm 
Lengte: 28 cm
Gewicht: 1.2 kg 
Aantal: 1
Package:
One Package includes: Trapezecover, hammock, a set innerpillowsleves and a piece of sisalrope (3 meter)

Weight and maat: 
1 pillow trapeze 0.8kg
2 pillow trapeze 1.0 kg
3 pillow trapeze 1.2kg                                                   

                          


Afmeting gemonteerd product
Height:
1 pillow trapeze 1.10m
2 pillow trapeze 1.25m
3 pillow trapeze 1.60m
Cover ø:  60/ 50cm 


Belangrijkste voordelen
- Het dichtgeweven beddengoed van fijn garen biedt extra zachte en duurzame kwaliteit.
- Door de blinde drukknopen blijft het dekbed op zijn plaats.
Milieu
Er zijn geen optische witmiddelen gebruikt.
100% vernieuwbaar materiaal.
Niet chloorgebleekt.

Just to know
Draaddichtheid 205.
De draaddichtheid geeft het aantal draden aan per vierkante inch in een stof. Hoe hoger de draaddichtheid hoe dichter de stof is geweven.
Dobby-weefsel; geeft de stof een decoratieve structuur.
Verkrijgbaar in diverse afmetingen.

Onderhoudsinstructies
Wasbaar op 60°C.
Niet bleken.
Drogen in de droogtrommel, normale temperatuur.
Strijken op hoge temperatuur.
Niet chemisch reinigen.
Productomschrijving
100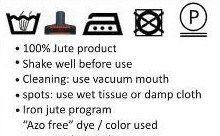 % katoen